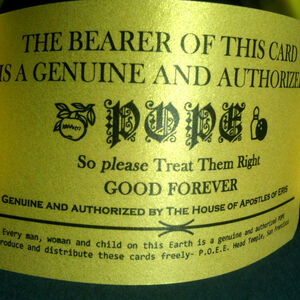 Every man, woman and child on this Earth is a genuine and authorised pope.
The Rights of =POPE= include, but are not limited to:
To invoke infallibility at any time, including retroactively.
To completely rework the Erisian Church
To baptise, bury and marry (with the permission of the deceased in the latter two cases).
To excommunicate, deexcommunicate, reexcommunicate and dereexcommunicate (no backsies!) both his-/her-/it-/them-/your-/our-/His-/Her-/It-/Them-/Your-/Our-self/selves and others (if any).
To perform all rites and functions deemed inappropriate for a Pope of Discordia.
Ad blocker interference detected!
Wikia is a free-to-use site that makes money from advertising. We have a modified experience for viewers using ad blockers

Wikia is not accessible if you've made further modifications. Remove the custom ad blocker rule(s) and the page will load as expected.